KUTTAWA, Ky. (KT) — God's perfect timing resulted in a Kentucky Baptist Convention church being blessed by giving with a KBC institution on the receiving end of a much-needed bus.
That combination was fully evident last week when Kuttawa First Baptist Church (KFBC) donated its 34-passenger bus to Oneida Baptist Institute.
A rapid sequence of events led to Oneida quickly obtaining the bus when the school experienced a flurry of bus problems.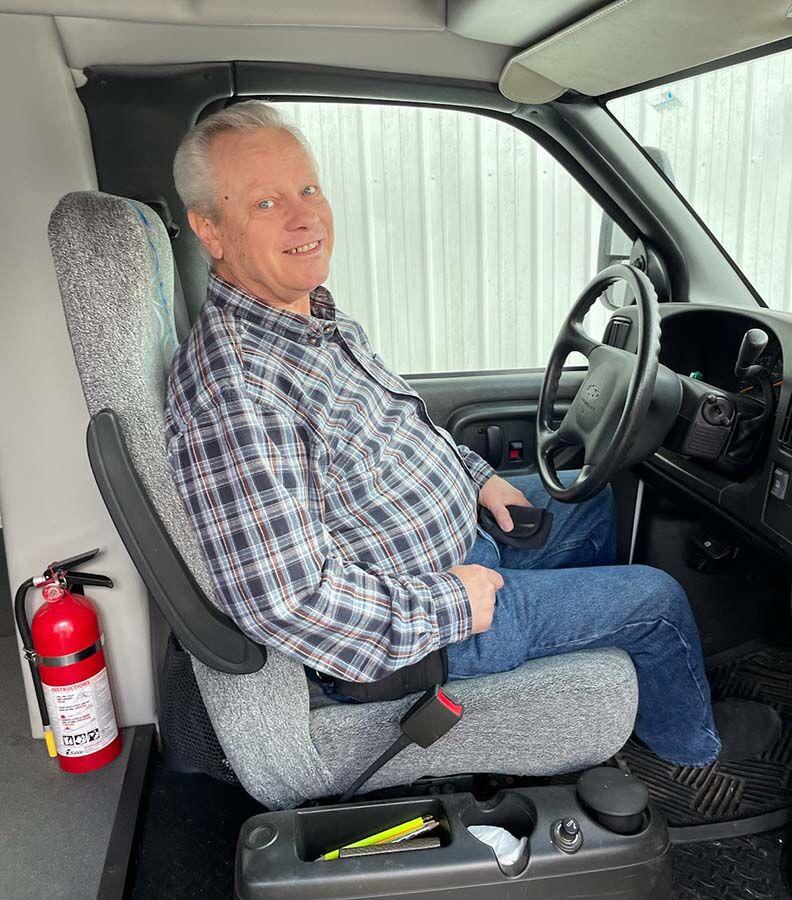 A week ago (Jan. 16), Kuttawa First Baptist Pastor Kyle Franklin contacted Oneida President Larry Gritton, asking if the school would be interested in its church bus as a gift. That call followed a monthly prayer gathering in the Lyon County church when Franklin asked the trustees what the church could pray about related to their work.
"The trustee chairman asked for wisdom regarding what to do with our bus," said Franklin. "In 2008 an anonymous donor in the church paid for the bus, wanting one that would be big enough for the whole youth group to ride together. The church bought a 34-passenger van and used it for years to drive youth to camp and for senior adult trips. It has north of 33,000 miles on it, but the last couple of years we had no one to drive it because no one had a CDL license.
"The man who did drive it and did bus ministry was at the point where he couldn't drive it, so it has been sitting idle a couple of years. Last year the trustees looked at trading it in and downsizing to a 15-passenger van, but we didn't get a good price and determined that would not be good stewardship.
"We prayed about that, and at a deacons meeting (Jan. 15), it was suggested the bus be given to Oneida," Franklin said. "All the deacons excitedly agreed, saying we believe that is something we need to do."
The church became familiar with Oneida and its ministry when the Oneida choir sang and OBI President Larry Gritton preached in a service there last November. "Before that our church did not know a lot about Oneida. The church really caught that vision when Larry preached and the choir sang."
On Monday (Jan. 16) after that deacons meeting, Franklin made the call to Gritton, giving him pertinent information about the bus. Gritton replied by saying Oneida would be glad to have it — but neither expected how fast things would transpire.
On that same day, one of Oneida's buses broke down. Three of its five buses are used to transport most of Oneida's local students to the school. On Tuesday, the situation became gloomier when another bus broke down. Gritton called Franklin and said, "We're having fits with buses right now. Any chance we can speed this up?"
That put the ball in Franklin's court, and on Wednesday night KFBC voted unanimously to approve a recommendation from the deacons and trustees to give the bus to Oneida.
Three days later, Oneida sent two people on a five-hour, 300-mile drive to Kuttawa, where they accepted the bus and drove it back to Oneida. That bus was used two days later (Monday, Jan. 23) by Oneida to transport students.
"It's another example of the Lord's providence and provision and timing," said Gritton. "It's an example of a pastor who gets on our board (of trustees), who then goes to another church and they get involved and educated about us."
Franklin, who became Kuttawa First's pastor a year ago, serves on the Oneida board and had connections to the school during his two previous pastorates.
"We get three or four contacts a year from someone offering us a bus, but some of those buses are so old we don't feel we can put them on the road with our kids," Gritton said.
But the Kuttawa bus was a different story.
Gritton noted that while the KFBC bus is not suitable for house to house pickup of students, "this morning (Jan. 23) we were able to use it where students are picked up in groups, such as at a parking lot or a store.
"It's an amazing blessing for us," Gritton added. "It's an example of Kentucky Baptists fueling our work."
For Kuttawa First Baptist and Franklin, there is pleasure seeing the bus continue to be used for kingdom purposes. "That bus is going to be carrying children to Oneida, where they will be hearing the gospel and be educated for time and eternity. The Lord put this together — it was perfect timing for both us and Oneida.
As the bus was being driven away Saturday, Franklin said "a thought came to me — that bus was given to KFBC to transport children and youth to hear the gospel and grow in their faith. We rejoice to know that it is going to Oneida to continue to serve the purpose for which it was originally given — to transport children and youth so that they may hear the gospel and grow in their faith. We pray God will be glorified and that His kingdom will grow as OBI uses this bus to reach children and youth in Clay County and beyond."