LEXINGTON, Ky. (KT) — Mark Maynard, managing editor of Kentucky Today since 2017, was inducted into the Kentucky Journalism Hall of Fame Thursday evening.
At a reception honoring the eight inductees in the 42nd Hall of Fame class, Maynard reflected on his career. "I have always written for the readers, and I have always tried to be a mentor to young journalists who came up behind me. It may be my greatest contribution to journalism. I love hearing how the careers of those I have mentored have found success across the country. The goal is not to fill someone else's cup, but to empty my cup."
Maynard had high praise for co-workers during his 42-year career at the Ashland Daily Independent (ADI).
"I would have never made it in this business without my best friend and love of my life. My wife, Beth, is my biggest fan and best critic. She is a constant who has put up with what other spouses of journalists come to understand. It is going to be long hours with low pay and sometimes even middle-of-the-night calls. But it is your spouse's passion. My wife is a praying woman, and I am blessed to have her praying for me.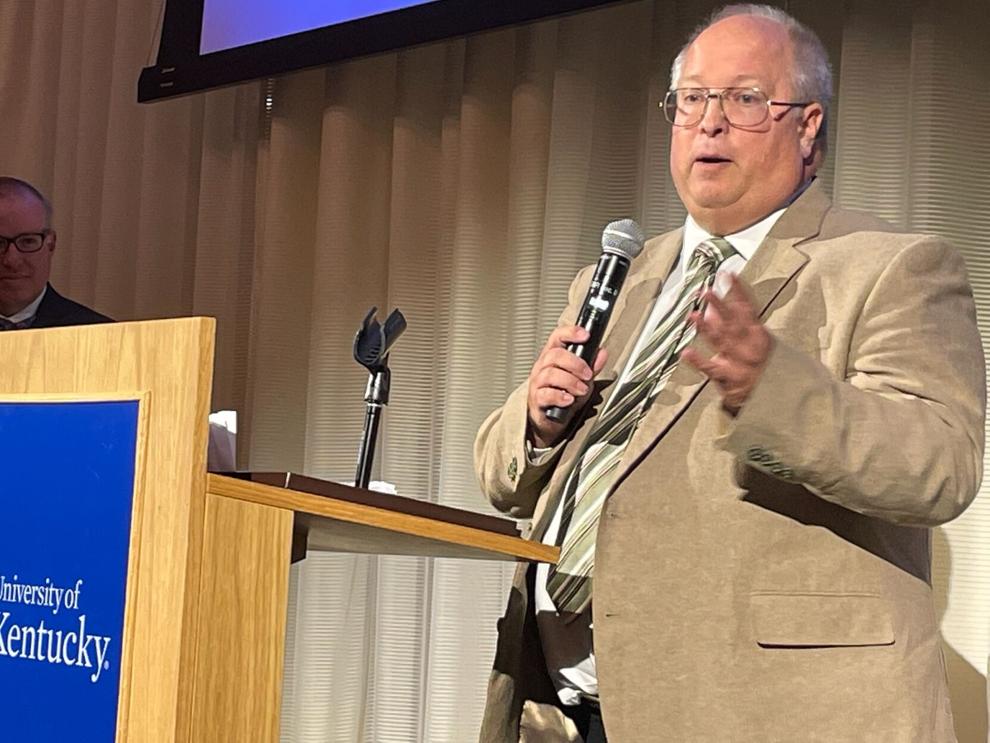 "In community journalism, you are a junior celebrity," Maynard added. "My kids enjoyed and poked fun at my 'status,' sometimes standing behind those over-the-top UK fans who wanted my analysis at a restaurant. My kids would stand behind them and spell out C-A-T-S without saying a word. My daughter endured birthdays without her dad around because she was a March Madness baby. I always made sure to let her know how much I missed her on those days."
Maynard began his career at the Ashland paper as a high school senior. He was tasked with rolling the Associated Press ticker tape in the early morning hours. He would separate stories and hundreds of AP photos into categories and place them in baskets for the various newsroom departments.
He went on to graduate from Morehead State University, but still kept his Ashland connections, working was a part-time sportswriter for the ADI during his college days.
He moved to full-time sportswriter status in 1978, then became sports editor in 1989. He was named managing editor in 2005, then finished his career there as editor from 2012-17.
"Eddie Blakeley was the best publisher I ever worked for," Maynard said. "His strategy was simple really. He let me do my job, which speaks volumes. My best work came with John Flavell by my side. He is one of Kentucky's greatest photographers who always knew the hook of the story and found creative ways to tell it through the lens of the camera. I marveled at his work and tried to learn from him. More than a co-worker, he was a treasured friend then and now.
"I have always been surrounded with great co-workers who shared my passion for journalism, from my 42 years at the ADI to the last five years at Kentucky Today — my third and last job — where two-time Emmy winner Lawrence Smith and fellow Kentucky Journalism Hall of Fame member Chip Hutcheson are co-workers with show-stopping credentials.
"Telling the story of Kentucky Baptists has been one of my greatest joys in journalism," Maynard added. "God has been so good to me. I'm blessed to finish my career at a place that is so God-honoring."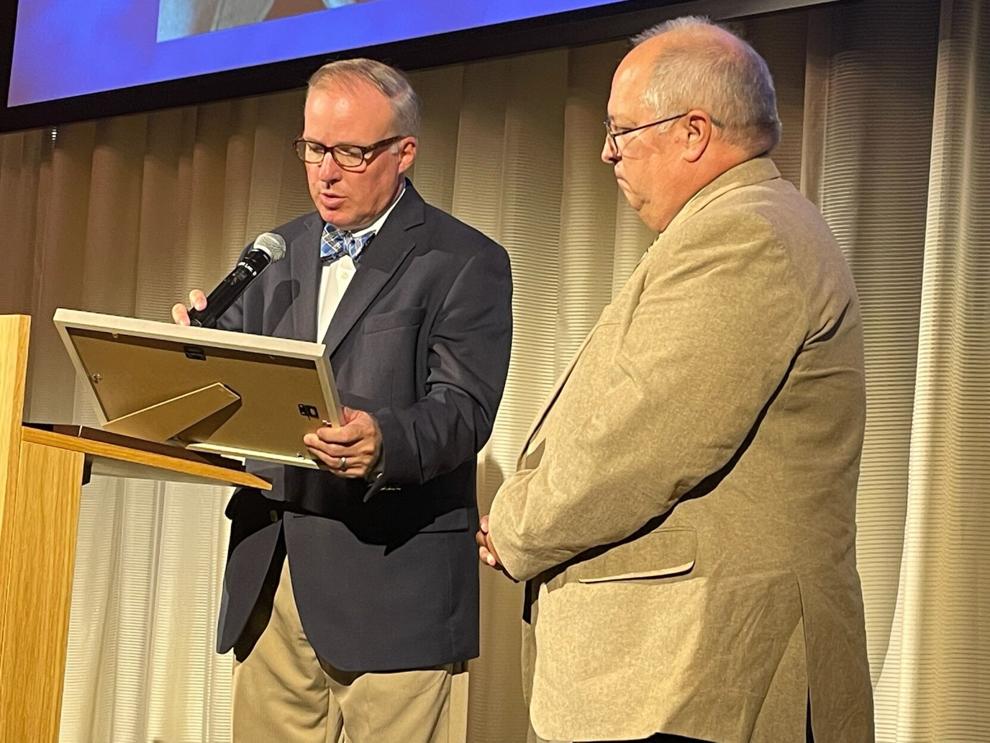 His career has plenty of highlights. While at Ashland, he covered the 1990 World Series, UK football and basketball from 1988-2000 and earned more than 75 awards from the Kentucky Press Association. This past year with Kentucky Today he has covered, among other things, the tornado devastation in western Kentucky and flooding in eastern Kentucky.
"It's so humbling to be a member of the Kentucky Journalism Hall of Fame," Maynard said. "I never even dared dream of such an honor. It's as much a credit to those who have worked alongside me in a 47-year career. I worked with the best from my early days to today. I share the honor with each of them.
"The job comes with a satisfaction that few other jobs offer. I am humbled to be inducted into the Kentucky Journalism Hall of Fame with this incredible group. It is not something I ever expected. My thanks to the committee and to those who nominated me."
"We are proud to call Mark a colleague and friend," said Lawrence Smith, communications director for the Kentucky Baptist Convention. "Kentucky Baptists are blessed to have him as the managing editor of Kentucky Today, not only because he is a top-notch journalist, but also because he is a faithful follower of Jesus Christ. Congratulations to Mark on his well-deserved induction into the Kentucky Journalism Hall of Fame."  
Others inducted were:
• Former Kentucky resident Scott Applewhite, four-decade and Pulitzer Prize-winning senior photojournalist with the Associated Press based in Washington, D.C.;
• Paducah native Jerry Brewer, a national sports columnist for The Washington Post;
• The late Melissa Forsythe, who was a news anchor and reporter for WAVE-3 and WHAS-11 in Louisville;
• The late Bill Mardis of Somerset, a Taylor County native who served more than 50 years as a reporter, editor and columnist at the Commonwealth Journal;
• The late John B. Gaines of Bowling Green, who was president and publisher of the Bowling Green Daily News for six decades; 
• Lexington native Stuart Warner, whose five-decade career included serving as Lexington Herald-Leader sports editor and a Pulitzer Prize-winning editor at the Plain Dealer of Cleveland; and
• Louisville native Deborah Yetter, a Pulitzer Prize-winning reporter and editor who has spent decades at The Courier-Journal, and before that, the Louisville Times.