BOWLING GREEN, Ky, (KT) — Western Kentucky University notched its second straight win and improved to 13-11 Saturday, notching a 74-69 come-from-behind win over UTEP.
Leading the Hilltoppers was Dontaie Allen, a transfer from UK, who scored a career-high 25 points — 15 of those coming in the second half — to spark the Toppers to their fifth Conference-USA triumph.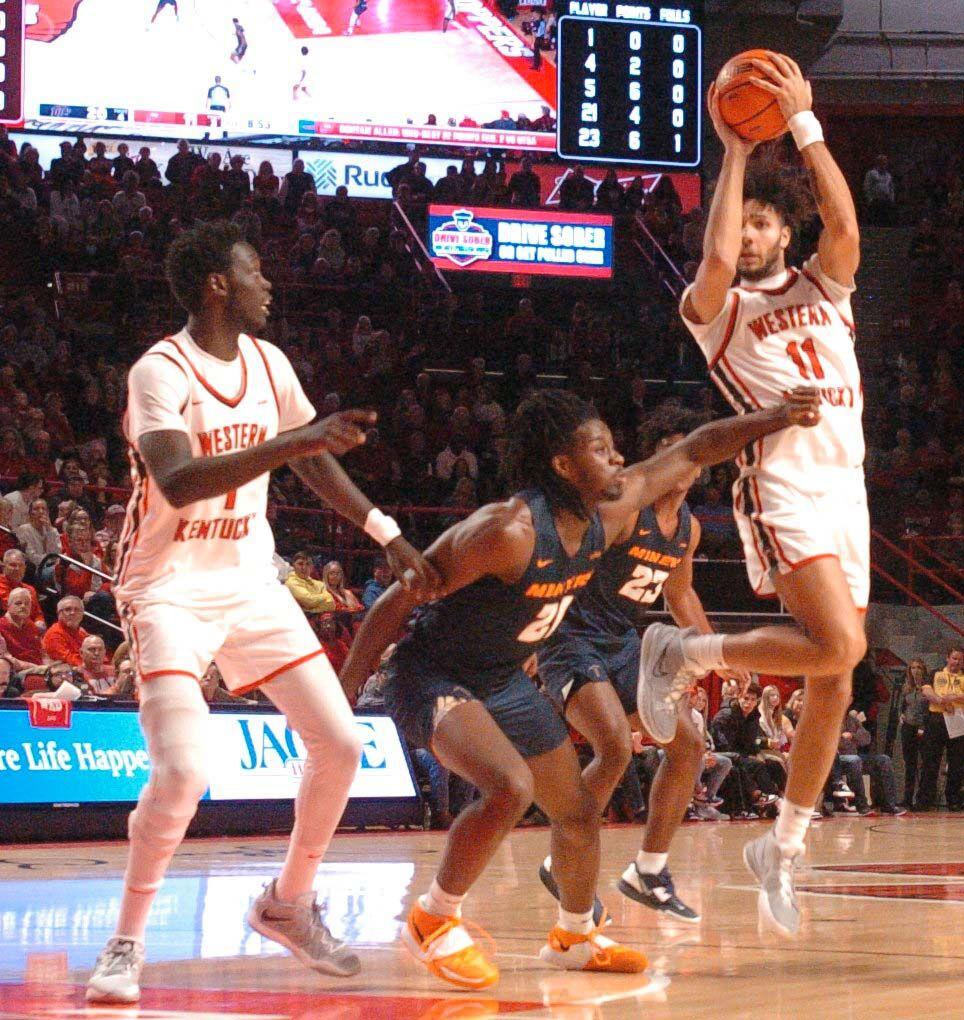 Playing almost 34 minutes, Allen was 5-for-8 from behind the three-point line, went 4-for-4 from the foul line and snatched seven rebounds. Allen scored WKU's final seven points to stave off the Miners.
Allen made his first collegiate start two days earlier, leading the Hilltoppers to an 81-74 victory over the UTSA Roadrunners at home in E.A. Diddle Arena. Allen had 22 points — including 12 from beyond the arc — seven rebounds, three assists and a steal in 38 minutes of action.
"UTEP came in here first or second in the league in a lot of categories — offensive rebounding, free throws attempting and turnovers/scoring in transition," said WKU coach Rick Stansbury. "We checked all three of those boxes tonight. We said before the game, if we can win the rebound war and the free throw war, we're going to win the game and we did that."
WKU held a 39-35 edge in rebounds. From the foul line, the Hilltoppers made 19 of 25 while UTEP hit on only 12 of 20.
After Western Kentucky made the game's first basket, UTEP took the lead and held it throughout the half, being on top by as many as 10 points at one time.
The Hilltoppers quickly regained the lead in the second half, going ahead by nine after seven and a half minutes. Along with Allen's heroics, Dayvion McKnight and Jordan Rawls made seven free throws in the final stages.
"It feels great," said Allen after the game. "It's a testament to everybody staying together, especially down the stretch. That's what it came down to. Everybody staying together, staying positive."
McKnight said Allen's back-to-back shooting performances have given the Hilltoppers another weapon for opponents to have to stop.
"He was huge," said McKnight on Allen's second-consecutive 20-plus point performance. "Having Dontaie out there, knocking down 3's, his confidence is high right now and I'm loving it. Having (Jamarion) in the paint, dunking everything around the rim, it's pretty hard to stop. Once they take away something, we've got a counter."
McKnight scored 14 and had four assists, working through a toe injury he sustained on Thursday night. Emmanuel Akotrounded out the trio of double-figure scoring with 13 points on 6 of 11 shooting.