LOUISVILLE, Ky. (KT) -- Multiple media sources are reporting that Louisville athletic director Vince Tyra is a strong candidate to become AD at Florida State, where David Coburn recently announced his upcoming retirement.
The Tallahassee Democrat reported Sunday night that FSU officials are close to naming Coburn's successor and the UofL Board of Trustees has called a special meeting for Monday to discuss personnel matters. Sports Illustrated first reported Friday that Tyra is a surprise candidate for the FSU opening.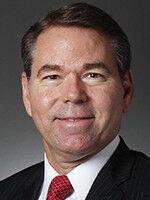 Tyra, a Louisville native and a former University of Kentucky standout baseball pitcher, has been UofL's Vice President for Intercollegiate Athletics/Director of Athletics since taking over as the interim AD in October of 2017. He was named the permanent AD in March of 2018.
Tyra would become FSU's third AD in just over three years.
At UofL Tyra's most prominent hires have been basketball coach Chris Mack and football coach Scott Satterfield. On Friday, Tyra announced that Satterfield was being retained for his fourth season after numerous calls for his firing from Cardinal fans.